Green River Festival
Somewhere along the Mohawk Trail at the foothills of the Berkshire mountains lies the town of Greenfield, Massachusetts. For the last twenty years, this area has hosted the Green River Balloon and Music Festival which attracts a solid lineup of musicians and fans from around New England. This year, an entire day featured Louisiana music as it was dedicated to supporting the Katrina Piano Fund, a charity formed to provide instruments to New Orleans musicians who lost everything during the hurricane. In addition to Sonny Landreth, the bill included the Hot Tamale Brass Band, the Iguanas, and Marcia Ball.
The weather gods smiled benevolently upon us as we walked around the festival area. In addition to a few food peddlars like the Divine Swine BBQ (they make a great hazelnut rub brisket), there were stalls selling handicrafts and other useless knickknacks. The highlight of the festival, aside from the music, was the hot air balloons. Rides were available for $225 a person, but we chose to spectate instead. They added a nice bit of color to the festivities.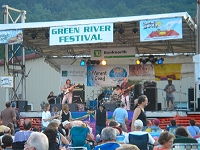 Sonny lights it up.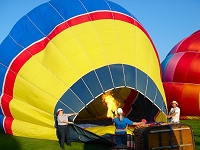 Still filling 'em up.