Hartford
The city of Hartford was founded in 1636 when a group of Puritans from the Massachusetts Bay Colony settled on the west side of the Connecticut River just north of a Dutch trading outpost. The Dutch eventually abandoned the area, perhaps due to the arrival of the English. The settlement was named Hartford to honor Hertferd, England. Being outside the jurisdiction of the Massachusetts Bay Colony, the leaders of Hartford drafted their Fundamental Orders that asserted the people's right to be self-governed – a precursor to the US Constitution.
Hartford began to grow as its importance as a trading center developed. Its proximity to the Connecticut River permitted shipping of goods to and from Europe and the West Indies. But it was the presence of these river captains that gave birth to Hartford's trademark industry. In an era when ships were prey to fire, storms, and pirates, captains began to work with the merchants to share the risk of their voyages. This practice led to the founding of the Hartford Fire Insurance Company in 1810. Hartford soon became the country's richest city and is still known as the insurance capital of America with companies such as Aetna, Travelers, and the Hartford headquartered there.
One of Hartford's most celebrated residents of the 19th century was Samuel Clemens. Mark Twain moved his family to the Nook Farm area of Hartford in 1871. He spent much of his wife's inheritance on a magnificent gothic mansion on land near the home of fellow author Harriet Beecher Stowe. Only guided tours of the house are permitted, so we obediently moved from room to room while the tour guide recited all the salient information. It was a profound experience to stand in Twain's drawing room where he worked on such works as Tom Sawyer, Life on the Mississippi, the Prince and the Pauper, and a Connecticut Yankee in King Arthur's Court. We lingered a little after the group moved on to imagine Twain sitting at his desk writing some of the greatest stories in American literature or shooting a rack at the billiard table while waiting for inspiration to come. While the Twain house is a must-see, we were equally captivated by the adjacent museum. In particular, the exhibit on Tom Sawyer shows just how controversial Twain's classic had been and continues to be today
We spent the rest of our time walking around the downtown area popping into the occasional watering hole. Eventually we came to Bushnell Park near the State Capitol building. We took a spin on the famous hand-carved wooden carousel, one of only a handful in the country. We stumbled upon a great Mexican restaurant across from the XL Center that served guacamole made fresh right at your table. J has a weakness for guacamole and this restaurant may be her most lasting memory from our visit to Hartford.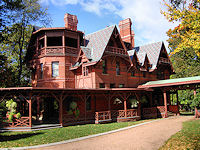 The Clemens Family House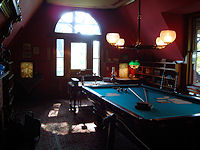 Mark Twain's study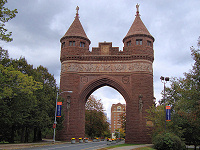 Soldiers and Sailors Memorial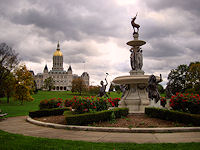 Connecticut State Capitol