The Golden Circle
Despite the stunning scenery, our eyes were starting to close as we rode out to our first stop at some sort of geothermal greenhouse/gift shop called Eden. Both of us dosed during the ride, so we weren't really sure why we were there. We walked around for a bit with our tourmates before being loaded back on the bus. Our next stop was a little more interesting as we visited the Kerith crater lake. By this time it was already beginning to rain, but a short walk in the cool weather started to bring us back to life. Geologically speaking, Iceland is a happening place with glaciers, waterfalls, volcanoes, geysers, and hot springs – a land of fire and ice. Even before you touch down, you can't help but notice the basalt rock that constitutes much of the island, the pumice that impart a red color to the land, and the ground fissures that seem to be almost everywhere. It all gives Iceland an extraterrestrial look.
Our next stop was the bishopric of Skálholt which was not only reported to be Iceland's largest town at one point, but it was also the country's cultural and religious center. In the 12th century, a cathedral was constructed on the site from timber that had to be imported from Norway. When Iceland was settled in the 10th century, about 30-40% of the land was covered with trees. Only a few patches of birch trees now exist, but a large reforestation program is underway. Today, a new church stands on the same site but archeologists are actively digging in and around the area. After another short bus ride, we arrived at the stunning double water fall of Gullfoss. We stayed just long enough to get drenched by the rain and mist and to enjoy the gorgeous views before reboarding the bus to visit the geothermal fields at Geysir. Once there, we sauntered around looking at bubbling hot pots and waiting for the geysers (the word originated from this location) to spew.
Our final stop was the national park of Thingvellir (or Þingvellir). Iceland is bisected by the mid-Atlantic Ridge which means that half of the country is on the Eurasian tectonic plate and half on the North American plate. Most of the ridge is deep in the Atlantic Ocean but it appears on land in Iceland as a large rift. The rift and surrounding park played a significant role in Icelandic history since the first Viking settlement. Once a year at Thingvellir (meaning "assembly plains"), new laws and amendments would be read from the Loberg or "law rock" to a group of leaders and officials gathered below. This assembly, known as the Althing, was the first European parliament and continued successfully for nearly 900 years.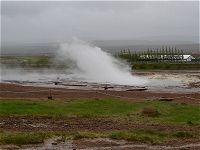 A geyser lets off some steam.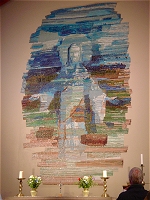 Portrait of Christ at Skálholt.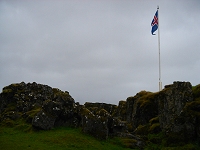 The Loberg at Thingvellir.